How to Hack LG Smartphones?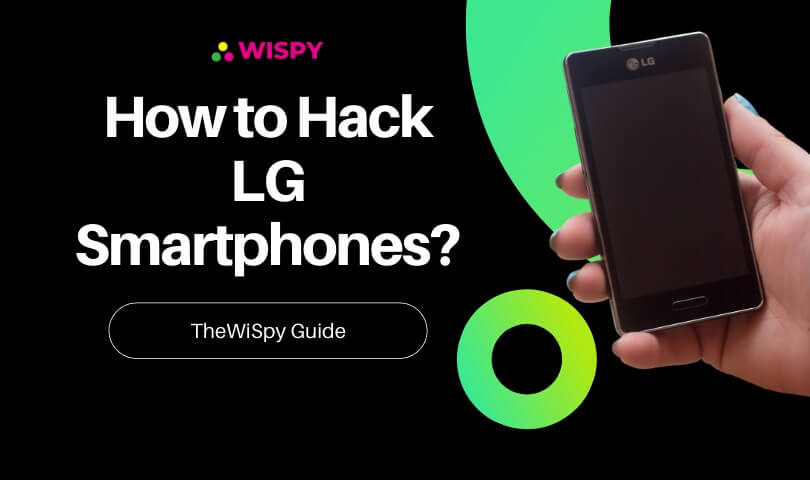 The internet space is not safe for kids. Parents nowadays try their best to protect juveniles from nomadic cyber dangers including, pornography, sexting, catfishing, bullying, trolling, and so forth. But, unfortunately, online threats are countless, and no one can guarantee your kids' online safety except you.
If your child has an LG smartphone, we have exciting news for you. Hacking into LG smartphones is now possible. Yes, you can track LG smartphones with virtual commands. In addition, specific tools have been developed to help users hack LG mobile phones and tablets for the greater good.
So, if you are unaware of how to hack the LG smartphones method, this article will help you. But before that, let's discuss why someone would hack an LG phone.
What Makes People Tracking LG Smartphones?
Rebellious teens are a real-life challenge for parents. They do what seems entertaining to them without asking or informing their parents. Once your teenager starts rebelling you, there is no way back. That is why parents must monitor the digital environment where their child posts, comments, or shares personal details. Online community impacts a lot. It can make children responsible or irresponsible.
The other scenario covers lazy employees. Businesses are exhausted worldwide with lazy employees and low productivity levels due to excessive cell phone usage.
Therefore, to save children from cyber dangers and keep employees' phone usage in line.
People who are tech experts and know how to code can hack LG phones effortlessly. But those who don't understand complicated coding techniques can hack LG phones and track their activities using effective hacking tricks, mentioned in the later section.
Let's now hop onto the primary topic; How to hack LG smartphones.
How to Hack LG Smartphones?
In the high-tech times of today, mobile phones and the internet are the necessities of routine lives.
Is your child addicted to social media? Or does your employee uses too much cell phone during work hours? Unfortunately, you can't take mobile devices from them.
Instead, you can restrict and control their cyberspace. That's where cell phone hacking methods come to the rescue.
If your target user has an LG smartphone and you want to track it, the following are the possible ways to do it.
Let's dig into the details and discover how these LG hacking methods will help you track Android smartphones.
How to Hack LG Smartphones with Android Device Manager?
Android device manager is a default function by Google to ensure safety to smartphones. Every moment of life is unpredictable. Therefore, securing digital devices and protecting personal data is essential. Android device manager allows users to hack into LG smartphones and tablets with easy remote access. It enables you to erase all the stored information from your target LG phone remotely. Also, parents can use it to lock the mobile screens of their kids' phones. It also gives control to ring and vibrate the LG phones with remote access. And the most demanding feature of the Android device manager is location tracking that delivers location history and active pinpoints of your target LG device in real-time.
Steps to Track LG Phones with Android Device Manager:
Go to google.com/android/devicemanager.
Sign in with an LG-linked Google account.
Control your LG device and locate its whereabouts in real-time.
Android Device Manager Limitations:
Though Android device manager offers exceptional phone tracking services, yet some factors limit its functionality.
Here are some limitations that obstruct Android device manager's operations:
Android device manager enabled.
Target LG device connected to a stable internet connection.
Location service toggled on.
Find My Device turned on.
And most importantly, you must know the Google account credentials linked to your target LG device. If you don't know the login ID and password, you can't track LG phones with the Android device manager.
Now, let's jump to the other option to track LG phones remotely.
How to Hack LG Smartphones with a Cell Phone Tracking App?
Mobile tracking apps are in great demand nowadays. People expect more details when they want to hack into someone's LG phone. And, mobile trackers fill the void by delivering high-end tools to track cell phones. For example, an Android cell phone tracker can hack into the target device and fetch all the stored information. Mobile tracking apps also record the live actions of cell phones and transfer the details to the end-user.
Read Also: Hack Samsung phone
Steps to Track LG Phones with Cell Phone Tracking App:
Get a registered to a reliable cell phone tracker. Make sure it supports your target LG device.
Purchase the subscription and get the tracker license.
Configure the mobile tracker on your target LG device.
Sign in to the phone tracker dashboard and track LG devices like a pro.
Cell Phone Tracker App Limitations:
Mobile tracker apps allow you to dig into the details of someone's mobile activities. You can listen to calls, read messages, track locations, spy on social media, etc. but, certain factors limit the working of such programs, such as;
Not all cell phone trackers are compatible with your target device.
A stable internet connection is a must for tracking LG phones with a mobile tracker app.
However, compared to the Android device manager, cell phone tracking software has superiority. Phone trackers can track more than location and provides users control over the smartphone activities.
The Final Words:
In summary, how to hack LG smartphones is a popular query. And hacking a smartphone is legal if you have a good purpose. In contrast with other hacking options, using a mobile tracker is the most convenient for those who know nothing about complex hacking codes. Despite your technical knowledge, you can hack LG smartphones like a professional using mobile tracking apps. With a user-friendly interface and easy installation process, anyone can track mobile phones and tablets remotely and secretly.