How to Hack Samsung Phone without Them Knowing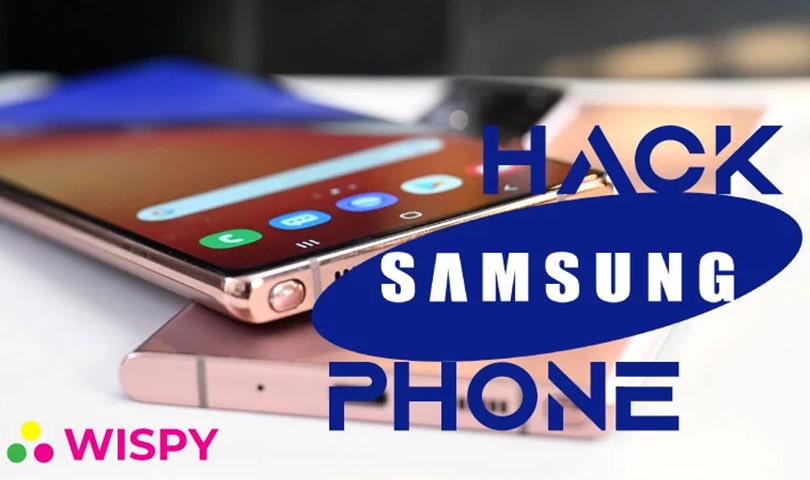 The Android operating system is widely used in the majority of smartphones. And Samsung falls in the same category. According to world statistics, 54.2% of people use Android phones. Samsung, being a well-known tech company, uses Android OS in their mobile devices.
Samsung's Find My Mobile service allows owners of Samsung devices to remotely locate or lock their smartphone or tablet, back up data stored on the devices to Samsung Cloud, wipe local data, and block access to Samsung Pay.

According to thehackernews
Mobile phones have indeed made our lives much easier. We depend on our smartphones for routine activities such as; booking an Uber ride, watching the news, educating children, and a lot more. Life without cell phones is unimaginable.
So, if you are thinking of hacking someone's Samsung phone, you have to crack the Android OS.
In this article, we are going to elaborate on how you can hack Android phone without them knowing.
Let's begin.
How to Hack Someones Samsung Phone?
Hacking a Samsung phone can be a fun activity if you use the right tools. Today, we must thank technology for facilitating our lives with innovations. To spy on Samsung devices, using Android spyware is the best option.
To keep things precise, we recommend you use TheWiSpy app to hack into your target Android phone or tablet. With its robust features, you can snoop into every little detail of your desired phone and monitor digital data remotely. Also, the powerful functionality of TheWiSpy app doesn't let the end-user suspect presence of spyware in Samsung.
Yes, you can monitor Android phones remotely, even if the device is not in your hands.
Amazing, isn't it?
Buy TheWiSpy App Now >>
Hacking Samsung devices with TheWiSpy does not only save your time and energy but gives you complete access to your target phone or tablet. You can discreetly view everything happening in the Android phones of whoever you want.
Let's discuss more TheWiSpy Android monitoring solution and reveal its amazing and robust features.
Why You Should Use TheWiSpy Android Monitoring App?
The spy app world has too many free spy apps for Android that claims to provide the best mobile monitoring services. But, if you need a reliable source, you must go for TheWiSpy app.
TheWiSpy app is popular for offering robust remote spying features that are endorsed by thousands of people around the world.
With a simple installation process, TheWiSpy removes all the complications that a person might face during the hacking procedure. No requirements for technical knowledge, you just need to follow easy steps for app installation.
Here are some outstanding features of TheWiSpy;
Call Recordings:
When you hack a Samsung phone with TheWiSpy app, you can hear all the incoming and outgoing phone calls. The app records the verbal telephonic conversations and uploads the recorded files on a web-based dashboard from where you can access the recordings easily.
SMS Monitoring:
You can read sent, received, or draft SMS messages of your target device. TheWiSpy SMS tracker app enables you to read every text message of your target Samsung phone.
Call Logs Tracking:
Now, you can track who called the target user, and how long the telephonic conversation went. Also, with TheWiSpy, you can get the contact details saved in your target device.
Social Media Monitoring:
With social media monitoring, you can keep eyes on every online move your target user makes on the social media platforms. TheWiSpy delivers a detailed report on social media activities to the end-user.
GPS Tracking:
You can free track cell phone location using TheWiSpy GPS location tracker app. From active pinpoints to location history, everything can be tracked.
Surround Recordings:
TheWiSpy allows you spy microphone to record the surround voice and noises of your target phone and enables you to listen to what is happening around your target user.
Geo-fencing:
With the geofencing feature of TheWiSpy, you can restrict locations using the electronic map. Geo-fencing enables you to limit the geographical boundaries so that whenever your target device breaches the bounded area you will get notified.
Web Browsing History:
TheWiSpy web browsing history monitoring feature gives you detailed reporting on the search history of your target device. You can secretly monitor all the searches made by the end-user.
TheWiSpy app makes it much easier for you to hack Samsung phones and tablets. The app also provides parental control features so that you can have full control over your kid's phone.
Now, let's reveal how you can use TheWiSpy app to snoop a Samsung phone.
How to Hack a Samsung Phone with TheWiSpy App?
TheWiSpy app is easy to install. All you require is physical access to install spyware on Samsung phone, and it only takes around 5 minutes to set up the app in the target device.
So, here is what you have to do to get started with TheWiSpy app;
Step 1: Buy The License:
The very first step is to purchase the license subscription of TheWiSpy app. For that, you have to:
1- Go to the website https://thewispy.com/.
2- Click on the pricing tab.
3- Select your subscription package.
TheWiSpy offers affordable pricing packages with secure payment methods.
Step 2: Configure The App:
As soon as you buy the license, you will receive an official email from TheWiSpy. The email contains an installation guide, app download URL, activation key, and login credentials. You must follow the installation process to configure the app in your target Samsung phone. Once you download and set up the app on your device, it's time to hack the phone secretly.
Step 3: Open TheWiSpy Dashboard:
Now the last step is to open TheWiSpy dashboard by using the login credentials sent by the app provider. Log in to your account and you will see a menu displaying features at the left sidebar. From here, you can monitor calls, SMS, track GPS location, and other digital activities.
So, get your TheWiSpy subscription today and monitor Samsung phones and tablets without any suspicion.
How to Hack a Samsung Phone without an App?
Today, there are 992.4 million active Samsung smartphones worldwide. The increasing number of Samsung users has increased the demand for hacking methods.
Samsung is the best-known Android phone, manufacturer. The Samsung Galaxy series has been the star of the Android industry in 2021. The popularity of Samsung devices is because of their flexibility, affordability, and high-end performance.
As a big chunk of Android users possesses Samsung smartphones/tablets, people seek to crack Samsung devices for spying purposes.
No matter what your reasons are, you can hack your desired Samsung device with a few effective hacking techniques.
So, if you are a tech-newbie, you must read the following section very carefully.
Hack a Samsung Phone without an App:
Before we jump into the hacking method, let's discuss why you want to hack someone's Samsung phone?
Do you find something off in your child's behavior?
Do you feel your spouse is keeping secrets?
Are your employees squandering time on cell phones?
Hacking a cell phone may have different intentions. Thanks to the technology for enabling us to hack a Samsung phone remotely.
Here are complete details about how to hack a Samsung phone without a spy app.
Hack Samsung Phone with System Bug Method:
The most effective method to hack a cell phone is finding a loophole in the target device's program and targeting it with a bug to crack its system. For Samsung phone hacking, the system bug method will allow you to enter your target device, fetch the stored information, and exit the program with all the retrieved information.
Here is the step-wise procedure you have to perform for system bugging:
First, pick up your target Samsung device, press the power button.
By pressing the wake-up button, the phone screen will turn on. Now press "Emergency."
Input any number on the Emergency dialer, and press the dial button.
You'll see a message indicating the wrong emergency number on the screen. Press the "Home Button."
Now, press the "Power Button" immediately.
Once done, you can access the target Samsung phone's home screen. Yes, you've bypassed the security lock screen.
Note that it may take a few minutes to bypass the security lock of Samsung phones. But, once you are done, you can sneak into your target Samsung device and monitor digital details. While hacking Samsung device with system bugging, you can transfer files, photos, and other media to your device to retain the information as evidence.
Conclusion:
Mobile phones have impacted our lives in both positive and negative ways. People are curious to hack the smartphones of their loved ones just to make sure they use the online space safely. Today, technology has made cracking mobile phones so easy that you no longer require technical knowledge to hack Samsung phone. Just use the right tool like TheWiSpy, and you are all set to explore the digital space of the end-user.