Happy Independence Day – History, Tradition, & Celebrations with TheWiSpy
Posted in Events and Deals by Julie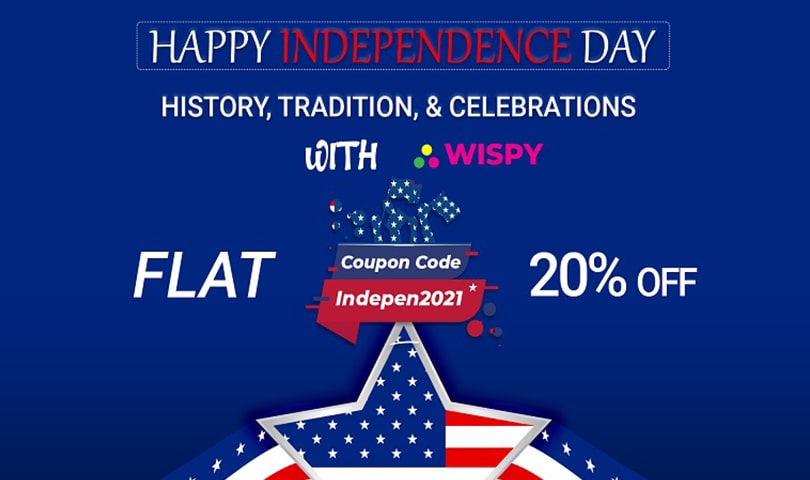 Just one day left, and the entire American nation will observe Independence day on July 4, 2021. We know it is difficult to arrange big parties on Independence day, but we can commemorate the freedom with our household by setting up a small family gathering.
Do you know the history behind the Independence of the United States? Do you know how our founders envisioned the United States?
Don't worry. We are about to revise the American Independence day history in this article.
Let's refresh our memory and reanimate the history of Independence Day once again.
When is Independence Day Celebrated?
Every year on the fourth of July, Americans observe Independence Day as a federal holiday to honour the declaration of freedom.
"Independence is declared; it must be maintained."
Sam Houston
The 4th of July is a public holiday in America; it is celebrated as the anniversary of America's declaration from Great Britain in 1776. In addition, American Independence day is commemorated in all fifty states of the US. People throughout the US relish independence with patriotic displays and family events.
Are you ready to grill barbecue this Independence day?
Independence Day – Is it a Federal Holiday?
The United States of America observes the 4th of July as a federal holiday to commemorate the Declaration of Independence. Therefore, all the schools and workplaces remain closed on the 4th of July.
But, what if July 4th comes on Sunday?
If July fourth turns up on a Sunday, the federal holiday will be on the following Monday. And, if July fourth falls on Saturday, the national holiday will be on Friday.
Independence day 2021 is on Sunday, so that the federal holiday would be on Monday, 5th of July.
Independence Day – A Brief History:
The United States of America was not really the "united states" back in the 1700s. But, 13 colonies were exhibiting distinct dispositions. From 1763-1773, Britain's King George III pressured the colonies by legislating the succession of Draconian taxes and ordinances. By 1764, the term "Taxation without representation is tyranny" outraged the colonists to protest for their rights.
But things were not easy for the colonists; the more they rebelled, the more Britain forces they had to face. The soldiers were so in power that anyone could break into the colonists' house and demand anything. It was the Quartering Act of 1765 that gave British soldiers the power to oppress the colonists. Not only this, but in 1765, the Stamp Act was passed according to which tax was applied to every piece of printed paper, including newspapers, legal documents, and even playing cards.
The colonial rage was getting louder and bolder. Finally, on March 5, 1770, a street fight between British soldiers and American colonists killed a 47-year-old Crispus Attucks and three other colonists in the Boston Massacre.
In 1773, the colonists disguised as Mohican Indians invaded British ships and dumped all the tea overboard in the sea as a gesture to avoid taxes. Then, in 1775, a revolutionary war among Americans and British soldiers. Americans demanded complete independence from British rule. Succeeded by continuous struggle, the colonies were finally declared independent on July 4th 1776. All the 13 colonies were set free and together named the United States of America.
Here is the Independence Revolution timeline:
1763-1773 – A time of harsh taxes and strict laws against colonists.
1765 – Stamp tax implementation made colonists pay taxes for printed papers.
1770 – British soldiers killed four colonists in the Boston Massacre.
1773 – Disguised colonists attacked British ships and dumped all the tea – the protest is known as the Boston Tea Party.
1776 – On July 4, America was finally declared Independent.
1941 – American Independence Day became a federal holiday.
1950 – Evolution of Independence Day traditions.
1976 – Bicentennial quarter was issued on the 200th birthday of America. The coin had all American states designed on it.
"America was not built on fear. America was built on courage, on imagination, and an unbeatable determination to do the job at hand."
Harry S Truman
How Should We Celebrate Independence Day?
American Independence Day traditions go way back. By the summer of 1776, when the US embraced freedom, the Americans commemorated the "death" of the British decree. They practised mock funerals and celebrated the joy with feasting.
Today, we, too, haul out special Independence day recipes and celebrate freedom with feasting and fireworks. Independence Day parade is another extravaganza practice Americans do to rejoice in their freedom.
Unfortunately, the Independence Day parade is cancelled for the year 2021 due to the global pandemic. However, Americans are all set to commemorate Independence Day indoors.
John Adams said about Independence Day: "It ought to be commemorated, as the Day of Deliverance by solemn Acts of Devotion to God Almighty. It ought to be solemnized with Pomp and Parade, with Shews, Games, Sports, Guns, Bells, Bonfires and Illuminations from one End of this Continent to the other."
TheWiSpy Independence Day Offer:
Happy Independence Day in advance. To make your freedom celebrations more secure, TheWiSpy is offering a mega blast Independence sale. All busy moms and dads can now track their children with TheWiSpy app. We know how occupied the Independence day celebrations can get, and to make the 4th of July tension-free. TheWiSpy is exclusively offering a flat 20% off on all its subscriptions.
Hurry up; the mega sale is live only until Independence Day.
To get a flat 20% discount, avail of the coupon code Indepen2021.
Monitor your children and never miss an update with TheWiSpy app.
Conclusion:
"Freedom is never voluntarily given by the oppressor; it must be demanded by the oppressed" – Martin Luther King Jr.
The American Independence Day story is full of enthusiasm and courage. Patriots fought for their freedom and succeeded in providing freedom to their nation.
TheWiSpy wishes all Americans a very Happy Independence Day. We hope that you all are prepared for the Independence Day celebrations.
If you plan to go on a picnic this independence day, make sure you get TheWiSpy subscription; it's easy to track kids with the TWS tracking app.
Happy Independence Day
Use Coupon Code: Indepen2021