Father's Day Special – Celebrate Father's Day 2021 with TheWiSpy
Posted in Events and Deals by Julie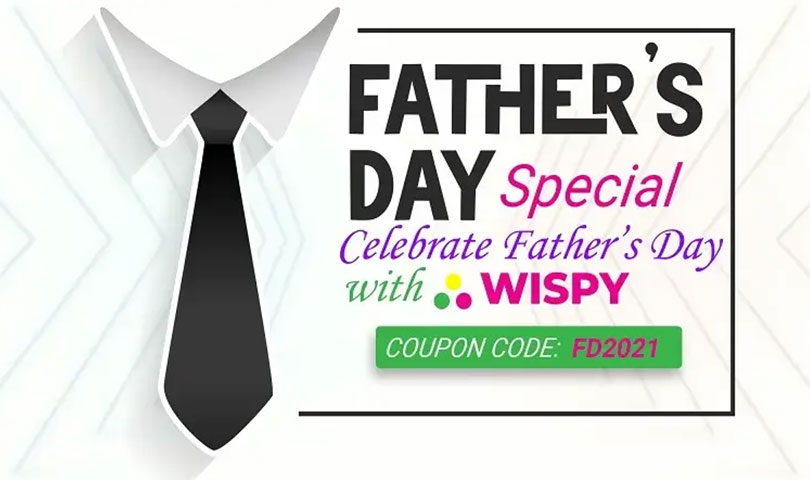 Greetings, all mommies. Are you and your kids ready to make father's day special this year?
Father's day 2021 is almost here; yes, it is time to do something extra for dads to pay tribute to them. Each day is new and unique; there are no restrictions to show honor and love to parents on a specific day. Every day is father's day because dads work round the clock to provide for their children; indeed, they don't rest as every parent wants the best for their kids. Mothers bear the baby in their womb for nine months, but fathers bear the child in their mind for life. However, the roles of a father and mother are distinct and essential likewise.
Father's Day 2021 is only a few days away; yes, it's on Sunday, June 20. The very first father's day was celebrated in 1910 in Washington. Different regions of the world observe Father's Day on separate dates, mostly Father's Day is celebrated on the 3rd Sunday of June.
So, have your kids bought Father's day gifts for their dad?
TheWiSpy Father's Day 2021 Special – Here's to All SuperDads:
The word "DAD" explains the role of a father as a dedicated and devoted person. On auspicious father's day, kids present their dads with special gifts, honor, and tribute. A father indeed is the first love of every daughter and the first hero of every son.
Let's celebrate Father's day 2021 by making kids compliment their dad's hard work and allegiance.
Let's explore some innovative ways to honor dads on their special day.
TheWiSpy Father's Day Special – Innovative Ideas to Celebrate Father's Day 2021:
Mommies, it is your duty to team up with your children and arrange fun activities to make father's day special for kids and their dad.
To add up the spice in your father's day planning, here are some creative ideas to boost father's day activities.
Create a Memory Book:
There is no gift better than a photo memory book. You can collect all those funny photos and paste them together in a photo book to revive all those beautiful memories. Make sure you start creating the memory book early as it takes much time to gather and arrange pictures for the memory book. If you don't find time, it's never too late to design a photo collage using digital photos. You can use different photo editing apps and creative filters to make a digital memory book.
Buy Customised Father's Day Gifts:
If you search the internet, you will find plenty of gift ideas for dad. But, here we are going to highlight some extraordinary gifts that kids can give to their dad. Try to go for customization. Kids can create customized gift baskets for dad. Customized baskets can be filled with cards, chocolates, perfume, a wallet, a watch, or any other thing that your father may like. If you want to present your dad with something overwhelming, go for a customized trophy highlighting all the best memories. Thank dads this father's day for their remarkable input to make their kids' future better. It's never too late to show love and respect to your dad, and father's day is the best opportunity to do so.
Throw Father's Day Party:
Well, who doesn't like parties? Mommies can help their kids arrange a spectacular father's day party. Decorate the party with father's day theme balloons, cards, and other ornaments. You can put dad's favorite dishes on the menu and make the party all about him. Besides, kids can plan Fathers' day brunch or father's day dinner to spark the day a bit more.
Design a Photo Gift:
Photo gifts are the best present one can ever get. Kids can print the best photo of their dad on tee-shirts, mugs, or other objects. Try to print family photos as it brings sentiments. Another creative way to craft a photo gift is by designing a photo board. Get a bulletin board, decorate it with ribbons and flowers; paste the best photos of your dad with family, and enfold it in gift wrapping paper. You can write "Best Dad Ever" on a gift card as well.
Craft Something for His Work Desk:
Dads and work; an inseparable combination, isn't it? Well, kids must try creating something for their dad's office desk so that fathers always feel close to their families. You can get customized notepads or stationery for your dad's office desk. Else, photo frames with family pictures will also be the best gift for dad's work desk.
Wait!
We also have a Father's day gift for the super dads out there.
Let's find out.
TheWiSpy's Special Gift for All Super Dads:
This section is exclusively for dads!
We know how hectic it is to manage work and home responsibilities. Modern dads can relate the difficulties they face while creating a secure world for their kids.
Thanks to kids' monitoring apps helping parents to monitor their children from distant locations. Yes, kids' tracking apps can help parents track their juveniles' GPS location while sitting at the office.
And the great news?
World's best child monitoring app, TheWiSpy, offers a 20% flat discount on all its subscriptions only for dads this father's day.
Yes, it is a special gift from TheWiSpy app to help fathers track their children in an advanced way.
So, grab your deal before the offer ends.
Coupon Code: FD2021
Avail of the coupon code and get exclusive discounts on TheWiSpy kids' monitoring and parental control subscriptions.
Father's Day 2021 – The Final Words:
A father is a valuable asset of the family; without whom, the family is not completed. Indeed, no one can replace the position of a father. On this father's day, make a pact to tribute your fathers and show them gratitude for all the support and influential services they did for you. Fathers want nothing but a comfortable life for their kids, so why not compliment him on Father's day with great surprises?
TheWiSpy wishes all the dads out there a very Happy Father's Day. We offer a premium Father's day discount for you so that you can protect your kids with a quality kids' monitoring app.