Can You Control Your Kid's Tablet from Your Phone With Parental Control Software?
Posted in Parental Control by admin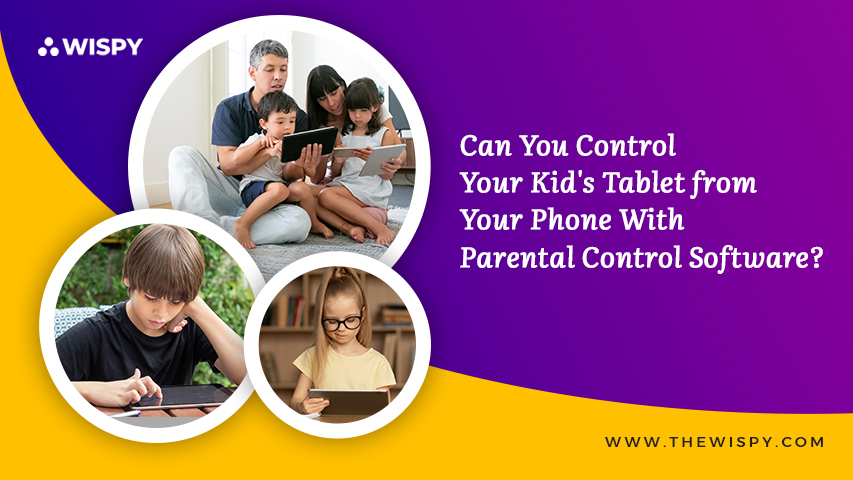 Are you seeking ways to control your kid's tablet from your phone?
Perhaps you should get a parental control software.
The lockdown and global pandemic have indeed made kids closer to digital devices. With online classes, virtual assignments, live games, socialisation, and unlimited browsing children are now more comfortable with mobile devices.
If you have a toddler or a tween around, then you must know how difficult it is to restrain them by borrowing your phone. Kids do love the glistering flat screens. As the epidemic of COVID-19 has brought up homeschooling as a precautionary measure, parents have become more concerned regarding the digital security of their children. As per the expert analysis, the increased screen time during the global pandemic is a new fact that parents have to deal with.
If you explore the internet, there are countless queries asking whether or not parents can control the mobile screens of their kids from their phone.
Let us discover if it is possible to control your child's tablet or smartphone from your own device.
In the later section, we will also explain how you can use parental monitoring apps to track your child's internet space.
Can You Control Your Kid's Tablet from Your Phone With Parental Control Software?
Parents do expose their children to mobile devices at a very young age. Today, kids are so tech-savvy that even toddlers can operate mobile devices and play rhymes or poems if their choice.
With such unauthorized and unrestricted content available online, it is a must that parents control their kids' devices before they encounter any age-inappropriate content. And, in such a situation, only the best parental control Android can save the day.
According to the experts at AAP, parents should limit the screen time of young kids to one to two hours a day.
Children now demand their personal smart devices. Most parents wait till their kids reach 8th grade, while others provide cellular devices to their kids in high school.
Are Tablets and Smartphones Harmful to Kids?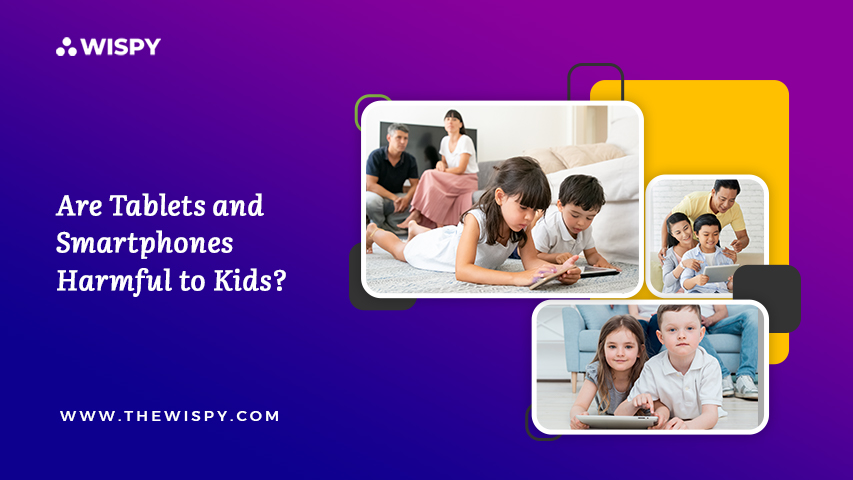 Technology can be both productive and destructive. Smart devices and the internet can help kids with educational and learning activities. Similarly, the internet with mobile use liberty can make kids addicted to inappropriate content and gambling games. That is the reason why parents demand children's safety app nowadays.
As a parent, you can always keep your kids in line when it comes to the use of technology.
Problems come with solutions. Parents can monitor child's phone and safeguard their kids from the dark side of the online world.
But how?
Using high-end parental control software is the answer!
Let's discover more.
How to Manage Your Kids' Tablet/Phone Activities with Parental Controls?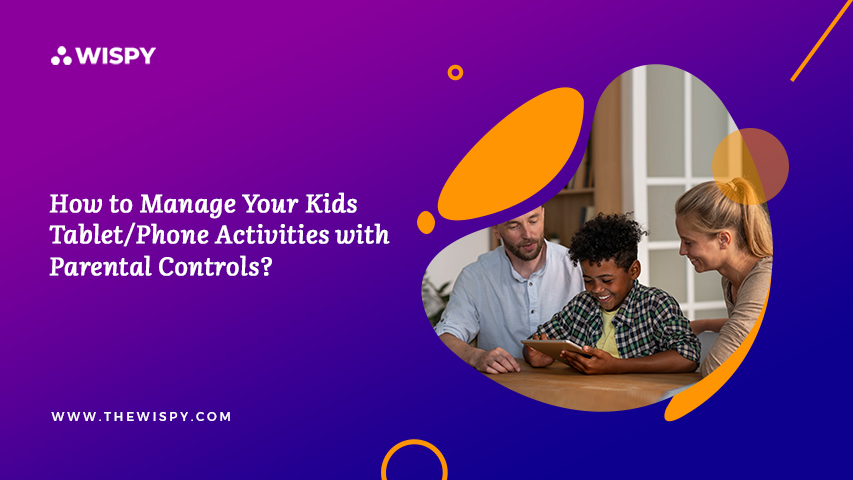 Smart devices now hold standard parental control features, enabling parents to make mobile phones and tablets kid-proof.
You can not keep your children away from smart devices, as there are so many beneficial aspects of technology. Yet, parents can limit the screen time of phones/tablets and schedule mobile usage.
In the latter section, we are going to mention the most useful ways to make Android and iOS devices childproof.
How to Make Android Devices Secure for Kids?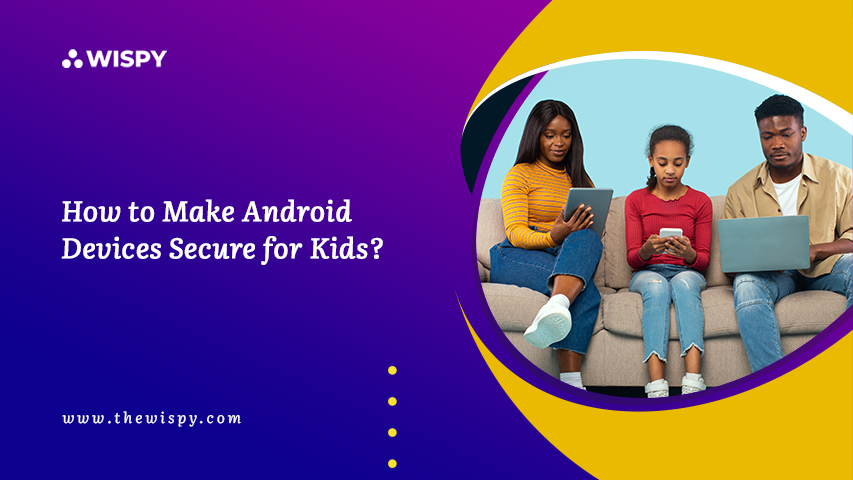 Parents can either use top parental control apps for Android. Or they can create a secure online environment on the Android devices of their kids using the Screen Pinning feature. Screen pinning is available for OS 5.0 and higher versions. Using such a feature, parents can pin a particular application to the screen. Meanwhile, all the other apps of the target phone/tablet will be locked up, which means that the user can not access or view any details except for the app you pinned. Parents can pin age-appropriate apps for their kids' phone or tablet. Once pinned, only authorised users can unpin the app from the mobile screen.
Here is how to set up screen pinning on your kids' phone:
Open the settings.
Enter the security menu.
Tap on screen pinning and toggle it on.
For pinning, hit the overview button.
From the app overview menu, tap on the blue pin button to pin a specific app.
For unpinning, hit back and overview buttons once and hold them for a while.
Note: While pinning the app, make sure you set a passcode so that only you can pin and unpin the apps from your child's phone/tablet.
Screen pinning features of Android can somehow help parents to limit the digital space of their kids. Parents can, however, set up parental control software or limit their kids' screens  from the Play Store and restrict apps, purchases, and other media content.
iOS Parental Controls – How to Secure Apple Devices for Kids?
iOS has always been straight forward when it comes to digital security. In contrast to Android Screen Pinning, iOS has its own feature known as Guided Access. Parents can activate this feature and keep their kids' iPad limited to one app.
Here is how you can set a Guided Access feature;
Open settings.
Tap on accessibility.
Scroll down and tap on Guided Access.
Toggle on the feature.
Set time limits and passcode.
Using guided access, parents can limit the mobile screens of their kids, confining them to a single app. Without the passcode, your child can not alter the settings.
Is It Possible to Control Kids' Phones from Your Device?
Yes, parents can control the mobile devices of their kids using third-party parental control apps. If you are looking for the best parental control Android that enables you to manage mobile activities of your kid remotely, no app can beat TheWiSpy.
You can open TheWiSpy dashboard from your device and control digital actions using parental control features.
Mobile freedom among kids can unveil too much of the internet. Teens and tweens can misuse mobile freedom and start indulging in unlawful activities like sexting, cyberbullying, catfishing, etc.
As every parent has a cell phone him/herself, so why not keep the digital space of your child in your hands?
A child phone monitoring app enables you to open a web-based dashboard on your device. So, you can view every action of your child and block inappropriate activities.
ALSO VIEW:
Here are top beneficial features of parental monitoring apps;
Location Tracking
App Usage Monitoring
Content Filtering
App Blocking
Geo-fencing
Web History Monitoring
Remote Photo Capturing
Surround Recording
And many more
Kids of today are tech-savvy., they can search for anything online if given with internet freedom. No parent would want their kid encountering internet dangers. Due to such reasons, it is feasible to make digital devices childproof.
Concluding Lines:
The harsh working routines of parents is not the only burden that challenges them controlling the screens of their kids. The global pandemic has made us all addicted to mobile devices. Parents around the globe are in distress regarding the extra-use of smartphones among children. Cell phones indeed have best parental control Android features, but the best way to manage the screens of children is using a good family monitoring app.
As per market research, we recommend you to install TheWiSpy parental control solution if you want to restrict the virtual space of your child. TheWiSpy not only allows you to monitor screens but it act as an efficient tool to control the mobile actions of the target device. In short, it is an all in one family monitoring app.
FAQs:
How to monitor child's phone without him knowing?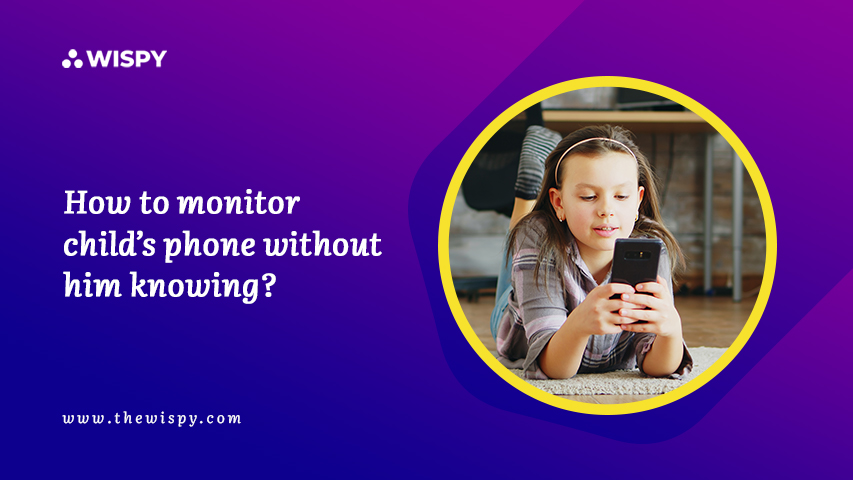 If you want to track your teen's online activities, you will require a third-party monitoring software. You can monitor kid's phone with TheWiSpy app. But you need one time access to his phone for TheWiSpy installation. After set up, you can see everything your child does on his phone. You can record calls, surroundings, read messages, and view other media with TheWiSpy remotely.
Is it safe to use safety apps for children's phone?
Children's safety apps are safe to use for parental monitoring. You can truly trust such apps as they keep your data secure and help you safeguard your kids from the harsh environment on the internet. You can track your kids' digital actions and block inappropriate apps to guard them online.
How to monitor messages on a child's phone?
You can monitor messages on your kid's mobile phone by using parental control software.
Just follow these steps;
Get TheWiSpy app
Install it on your target phone
Sign in to remote control panel and view everything remotely.
TheWiSpy family monitoring app helps you read all the text messages sent or received on your teen's phone remotely and secretly.
Can I hear my teen's phone calls?
Yes, you can hear your teen's phone calls. The right way to do such activity is by installing a parental control app on your child's device. Parental monitoring software allow parents to listen to phone calls and monitor other activities of their children in a legitimate manner.
Note that parental control apps are highly secure and encrypted. Your data is safe and not shared with any third-party.
Can parents monitor their kids' social media?
Indeed, parents have the right to monitor their tweens' social media. The internet threats are increasing day by day. And parental control apps help parents fight such dangers in an advanced way. The best option is TheWiSpy, as it can help you monitor WhatsApp, Viber, Instagram, Facebook, Snapchat, Kik, Telegram, and other social media apps.