5 New Year Resolutions Parents Must Not Neglect – TheWiSpy Guide
Posted in Parental Control by admin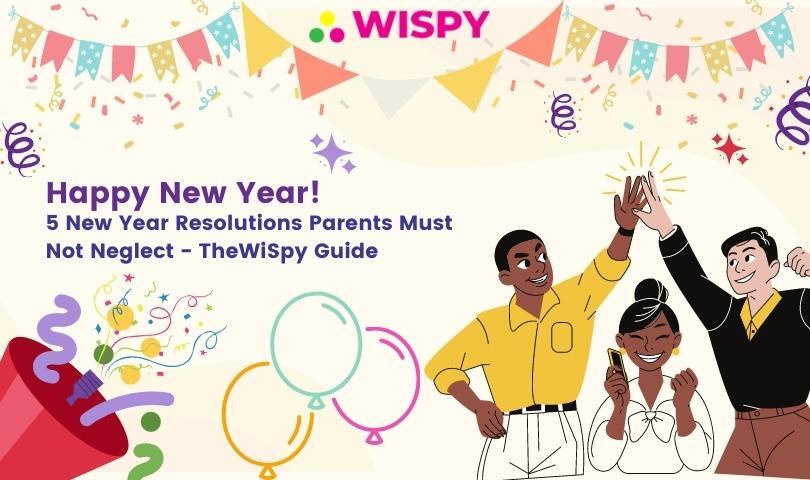 The new year brings new hopes, challenges, and opportunities to our lives. It is a chance to take a fresh start and look forward to achieving life goals. Perhaps, it is a time that signifies how our last year went and clarifies what we want in the future.
People, as a trend, make a New Year Resolution list comprising tasks and goals they want to achieve in the forthcoming year.
Indeed, our past somehow reflects our current situation, but it does not hold our future. For this reason, people make New Year Resolutions to highlight things they need to adapt or avoid.
For parents, it is quite formidable to make a New Year Resolution and abide by it.
Of course, keeping up with monotonous routines like work, house chores, and parenting drains out all energy. However, New Year Resolution can help parents push themselves and become agile and more concerned mom and dad.
So, what's your parenting New Year Resolution?
If you've not made your to-do list, then no worries.
We have summed up 5 New Year Resolutions for parents that would help moms and dads bring out the best of themselves and become their kids' superheroes.
5 New Year Resolutions Parents Must Not Neglect – TheWiSpy Guide
It's almost New Year.
The season of festivities is almost over with a very new beginning of 2022. We all expect a positive change in our future. But, nothing can happen without effort.
Remember that, as a parent, you need to set your New Year goals for 2022 that would also benefit your children.
Here are some essential parenting resolutions to lighten New Year 2022 by creating a better bond with your children.
Don't Bring Office Work to Home:
If you had been busy the previous year and couldn't give proper time to your family, then now is the chance to recreate your bond as a responsible parent.
But, unfortunately, working parents either constantly engage or worry about their office tasks that deplete all their energy. It makes them tired or lethargic when they come home.
Well, you can make the new year 2022 in your favor by reassuring your presence at home. After all, family matters the most. So, make a pact to leave all your office tasks at work. Come home in a fresh mood to spend the remaining day in the company of your folks.
Avoid Screens:
Mobile phones drive our lives, but spending hours on screens can negatively impact your kids' well-being. Often, children try to talk to their parents, and all they get in response is a nodding head. In a world where we ask kids not to be couch potatoes, we forget that they follow our steps most of the time.
It's time to connect with your family. Leave cell phones and take a genuine interest in your child's life. Moreover, you can also set rules of no mobile usage while dining or sitting together with your family. We understand that avoiding cell phone notifications is a challenging task. Still, it is also necessary to spend good family time together.
Listen More, Talk Less:
Listening is a core element of effective communication. However, It is a bitter truth that most parents converse with their kids and do all the talking instead of listening. Your children indeed need your guidance to make life decisions. Still, listening to their problems and whatever they say is also essential. If parents ignore their kids' problems, they might find someone else to share their issues with. We can say that most teens with failed parental relationships are more likely to seek attention from online friends or strangers. So, this year, try to listen and understand your children. Listening to your child's daily routine and engaging with them will uplift their spirit; they will trust you more and feel encouraged.
Plan Outdoor Trips:
If you are a boring parent who doesn't like to go to parties or camping, you have to mend your ways. Kids feel overwhelmed when their parents set a strict schedule for them and never let them participate in fun activities.
In your New Year Resolution 2022, promise yourself to be a fun parent.
Research says that 90% of wonderful childhood memories are made outdoors.
So, why not take your kids to hike, camp, or go skiing?
You can plan weekends in the cabin or head to the movie theater to watch your favorite picture. Or you can arrange game nights to bond with your kids. Furthermore, visiting Church, Zoo, Museum, Adventure Park, and so forth will also do the trick.
Be Vigilant:
As a parent, you are liable to cultivate a secure environment for your kids. The online world is cruel, and kids don't know about it.
Online predators, bullies, adult content, and violent graphics can devastate your child's mentality. That is why parents need to be vigilant and ensure their kids surf the internet safely. The only way to safeguard children from the online space's harms and dangers are to use a parental control app like TheWiSpy.
Be sure you have provided complete guidelines to your kids regarding safe surfing. The parental control app will do the rest, e.g. inform you about your kids' online exposure.
You can get TheWiSpy Licence at Discounted Price by Availing New Year's Sale. Just Use the Promo Code NY-2022, and Get Flat 40% Off on all Parental Control Tools.
Final Words:
New Year Resolution motivates us to bring the best of ourselves. However, as per U.S. News & World Report, only 20% of people stick to their New Year Resolution; the rest, 80%, fail to keep their New Year Resolution.
Being a parent, you need to set responsible goals for 2022 that would benefit you and your kids.
We have discussed five parenting Resolutions for 2022 to help you be a great parent to your kids.
Have a Very Happy New Year Ahead!