New Year, New Technology, New Cyber Threats of 2022
Posted in Cyberbullying by Julie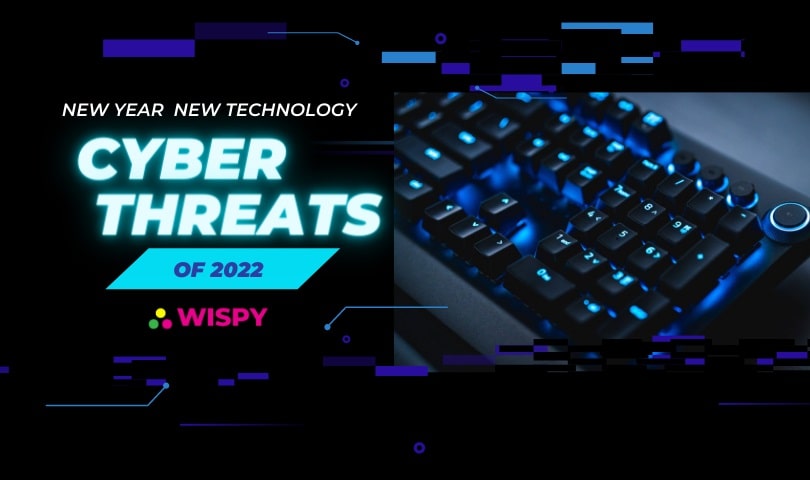 Cyber threats are spreading like wildfire, and the latest technology is aiding cyber attacks.
Every new year, we are introduced to an array of advanced technologies. Indeed, tech devices drive modern-day activities, yet there is a big chance of encountering cyber threats while using smartphones or surfing the internet.
Although the breakthrough in technology makes our lives convenient, major cyber threats, including identity theft, social engineering, and internal scams, are hovering freely all over the internet. Such online threats are highly destructive and cause harm to businesses worldwide.
In this article, we will be discussing some advanced technologies that may threaten human well-being in 2022.
Let's continue!
New Year, New Technology, New Cyber Threats of 2022
Cyber security issues contagiously infect the prosperity of businesses and individual identities. Every year, technological revolutions amaze us by introducing high-end tech devices to make our lives easier. In the early 21st century, no one could ever imagine drones delivering food or virtual assistants talking to humans.
Although 2022 will introduce us to the more advanced experience. We must not neglect the cyber security threats associated with digital exposure.
What are Cyber Security Threats?
Cyber threats include vicious acts to interrupt an individual's digital presence by stealing, manipulating, and damaging cyber details. Mainly, cyberattacks target corporate data to gain monetary benefits. However, online threats like deep fakes, catfishing, and sexual predations can be deleterious to individual internet users.
Let's dig in more and see different tech-related digital threats to challenge online presence in 2022.
What are the Types of Online Dangers?
Though, the list of cyber threats is never-ending. But here, we categorized online security threats into two major categories; AI & ML related security threats and social media related dangers.
Potentially, AI and ML driven dangers are more prone to disrupt online businesses. And, social media threats are more personal to individual identities.
Artificial Intelligence & Machine Learning Related Cyber Security Threats:
In the modern era, AI and ML impel the corporate world. Almost every data-driven organization uses advanced strategic technologies to boost business productivity. Simultaneously, companies worldwide take preventive measures to secure their credibility from cyber security threats.
AI and ML can potentially misconfigure and manipulate corporate information.
Businesses should watch over some common AI and ML-related digital security threats.
Data Poisoning & Privacy:
Machine learning models are often pre-conditioned and deal with big data. For businesses, it is essential to secure their corporate datasets while utilizing ML technologies. Although ML algorithms are trained to process and interpret data. There is still a huge possibility that ML systems may temper corporate details. Businesses are vulnerable to ML security threats as machine learning systems can be used by perpetrators to misinterpret company data and provide false or malicious information by corrupting the datasets.
Discrete data extraction attacks are common in the corporate industry in terms of data privacy. Businesses must secure their ML systems and create a confidential computing environment to safeguard company details.
System Manipulation:
False predictions can adversely affect business integrity. System manipulation is one of the common cyber security threats to generate high-volume fake algorithms making pseudo predictions. Moreover, malware inputs can cause system manipulation, forcing machines to work on unverified data resulting in business calamities.
Online Data Tempering:
The internet is an essential resource for businesses. Yet, it acts like an open window for attackers to send malware and temper corporate details online. Hackers can easily access corporate ML systems and manipulate data with false information. As a result, the machine learning systems generate faulty outputs that impair business reputation.
Social Media Related Cyber Threats:
A recent stat by Statista showed that 4.66 billion people had an online presence in 2021. Another report by Smart Insights indicated that over 400 million new users started using social media in the past 12 months.
With such a saturation, it is easier for cybercriminals to target vulnerable individuals and use them for monetary or sexual benefits.
Some common social media threats include;
Deep Fakes:
Deep fake technology creates synthetic media that perpetrators can use to tamper an image or video by replacing one's face over another. For instance, deep fakes technology allows users to develop falsified content. Deep fakes' consequences can be daunting. Cybercriminals can steal pictures from social media profiles and place innocent people's faces in porn videos to blackmail them.
Catfishing:
Social media has an enormous number of fake profiles. Some have created pseudo identities to stalk people, while others use bogus accounts to catfish their targets. Catfishing involves using phony information to befriend someone on social media. The purpose behind catfishing could be revenge or gaining sexual or monetary benefits.
Sexual Predation:
Do you know that over five hundred thousands online predators are active online daily?
Social media allows us to connect with peers and acquaintances. But, at the same time, it provides an open space to sexual predators to lure vulnerable teenagers. Sadly, 50% of online predation targets include kids aged between 12-15.
With all the online security threats revolving around online; cyber security tools and services can help businesses secure their confidential information. Individuals can also save their online presence with cyber defense strategies mentioned in the later section of this article.
Cyber Defence for Businesses:
For businesses worldwide, cyber defense is necessary. Hence, ventures can secure themselves using the following services and tools;
Third-Party Security Service: Businesses can outsource security services and let data security experts tackle cyber threats; including malware and phishing attacks.
Cyber Dangers Detection Tools: Extended detection response or XDR tools are designed to detect and indicate potential cyber threats, helping ventures enhance cybersecurity.
Employee Monitoring Tools: Ventures can use apps to monitor employee work phones to track emails and detect phishing emails before it's too late.
Cyber Defence for Individuals:
For individuals, cybersecurity is essential as well. Don't worry, you can secure your online space and restrict online dangers from approaching.
Strong Passwords: A passcode containing a fusion of uppercase and lowercase letters, digits, and characters is complicated to hack. Strong passwords for emails will secure your information from hackers. You must also set complex passwords for social media accounts.
Anti-Virus Software: Cell phones should undergo regular scans for viruses, and antivirus software can help with that.
Mobile Tracking Apps: Cell phone tracking apps lets you know about complete details of received messages and emails to identify threat text and media.
Conclusion:
Today, almost every region of the world has access to tech devices. If we talk about Artificial Intelligence, robotics, nanotechnology, machine learning, quantum computing, all are promising tech advancements for 2022. Still, cybersecurity issues challenge the online presence of businesses worldwide.
Do you want to boost cybersecurity? Get TheWiSpy app and secure ventures and personal details from getting exposed to online dangers