Mental Breakdown & Stress – Know the Signs at Your Home and Workplace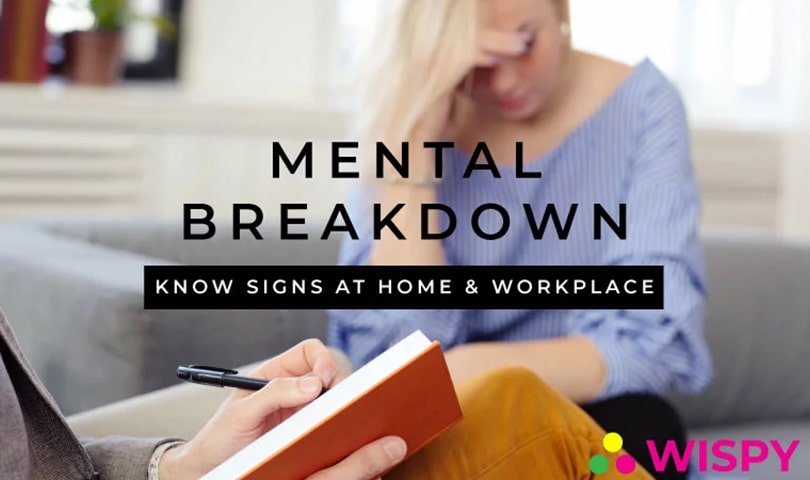 We, humans, are social animals as we interact with other people in the daily routine of our lives. Either at home or workplace, people always have something to talk or gossip.
But, have you ever encounter sudden behaviour change in your kids or employees?
If you have, then it can be alarming.
We take mood swings lightly like it is nothing.
Well, mood swings indeed are a matter of concern.
Sudden behavioral changes or mood swings can be a sign of mental illness.
But, what is a mental breakdown, and how it affects the life of your kids or employees?
Mental Breakdown – Listen To The Alarming Bells:
A mental breakdown or nervous breakdown involves sudden anxiety attacks that may cause due to acute depression. People suffering from mental breakdowns feel chest pain, difficulty in breathing following the condition of being panic.
Deteriorating mental health indeed hurts more than physical pain. That is why, as responsible individuals, we have to consider the mental health of people around us.
People in the majority are either students or employees. Education pressure or workload can develop stress and anxiety among students and employees.
Another reason for anxiety can be the excessive use of digital devices.
Do you know why?
Because we all are addicts. Yes! You've read it right.
Mobile phone dependence is increasing every day. If you look around, you'll merely find a person without holding a mobile device.
Do you know more than 30% of teenagers undergo stress?
And, more than 70% of adults have acute stress.
Let's see how stress devastates the lives of teens and adults.
Kid's Mental Health – What Parent Should Do?
The mental breakdown of kids can encounter stress for several reasons. Peer pressure, study load, bullying, or lack of attention are some common causes that develop stress in children.
Parents should see the signs of sudden behavioural changes or mood swings in kids.
If you don't know the signs, have a look at the following kid's mood swings:
Regression
Insomnia
Increase or Loss of Appetite
Decreased Concentration
Nightmares
Laziness
Emotional Explosions
READ ALSO: Cell Phone Addiction in Teens – Symptoms & Treatment
To detect and cope with the stress condition of children, parents should keep close eyes on their kids. You can only know the root cause of stress and ensure online safety of your kids by tracking what is happening in his/her life. For that purpose, parents require child tracking software that enables them to explore the digital as well as physical space of their children.
Employee's Mental Health – An Important Topic to Discuss:
A workplace can go upside down if employees don't perform their duties properly. Businesses can avoid such an overwhelming situation by starting monitoring their resources. If any of the employees have difficulty working, it is the sole responsibility of the company to ask them what's wrong.
In many cases, workplace pressure leads to employee stress that can negatively affect the overall performance of the employees. If you are genially interested to mitigate the stress, you must have deep company experience and knowledge to implement employees surveillance in the workplace. So you can implement employee monitoring software at the workplace
Here are some symptoms of mental illness in employees:
Fatigue
Lack of Concentration
Restlessness
Avoiding Social Gathering
Sudden Mood Swings
Disturbed Eating Habits
If you find your colleague or employee having such symptoms, make sure they are alright. For employers, considering employee health is significant.
If you are looking for an easy way to spy on employees, try using employee tracking software. It helps businesses find out what their employees do and where they go.
How to Know If Your Kid or Employee Is In Mental Stress?
Keeping eyes on your staff of children all the time might be challenging. The only way to do it smartly is by installing a mobile spy app in the devices of your kids and employees.
By noticing the routine activities, you can find out if someone is going through mental stress or not. You can directly ask someone if things are going right in their lives.
Here is an easy and effective tip, get a mobile monitoring app and install it in the device of your child or employee to ensure they are alright.
If you look around the market for the best mobile phone monitoring software, you will find plenty of options. To get advanced mobile spying feature, try TheWiSpy.
We have covered a quick review of this app so that you won't waste your time looking for features of TheWiSpy.
TheWiSpy Review:
TheWiSpy cell phone monitoring app is a savior for all. People who want to know the reason why their loved ones are upset should try spying on their phones to find out the truth. TheWiSpy offers amazing mobile monitoring features that give you full remote access to your target device. No matter where you are, you can always track to the GPS location, listen to the phone calls, and spy on other activities of your target user.
Key Features of TheWiSpy Free Android Spy
Here are some remarkable monitoring features of TheWiSpy android spy:
Call Recording: You can listen to every incoming and outgoing call of your target device. TheWiSpy records phone calls and uploads it on the online dashboard so you can have access to call recordings all the time.
SMS Spying: TheWiSpy enables you to read text conversations of your target device. You can find out what is cooking between the social circle of your kid or employee.
GPS Tracking: Tracking GPS enables you to know the exact location of your child or employee. You can track them and monitor location history to make sure they are safe outside.
Social Media Monitoring: TheWiSpy helps you monitor the social media accounts of your teens and employees to find out what sort of activities they do on social networks.
IMs Monitoring: With TheWiSpy, you can track and read the text and media files sent or received on instant messengers such as WhatsApp, Viber, Skype, Facebook Messenger etc.
TheWiSpy provides extensive cell phone spying features to make sure that everything is alright in your teen's or employee's life. Despite digital monitoring, there is no other way that can efficiently tell you about the well being of your kids and employees.
Final Thoughts:
Dealing with mental pressure is hard. Mental stress can lead to zero productivity of teens and employees. The best way to know if someone is going through stress is by monitoring their routine activities. TheWiSpy android monitoring app helps a lot in spying the digital and physical activities of teens and employees. Parents and business owners around the globe prefer digital monitoring to make sure everything is safe and sound. Have you started monitoring your kids and employees yet?