Facebook Location Tracking – Here is How You Can Stop Facebook from Tracking Your Location
Posted in Social Media by Mike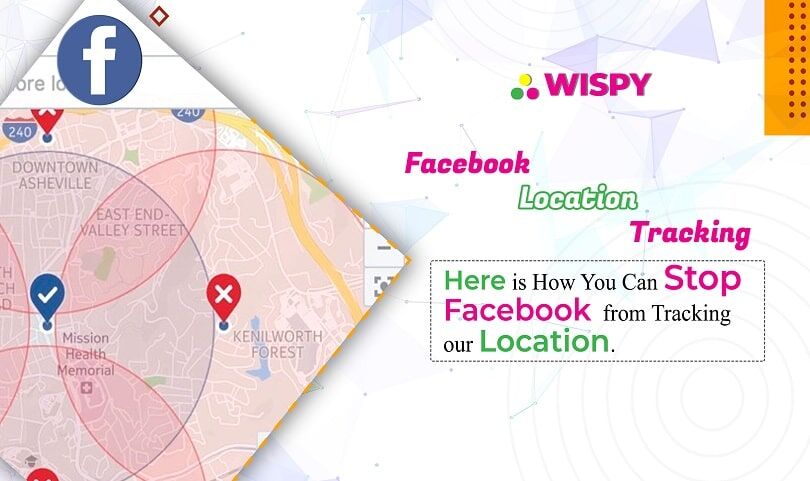 Do you know Facebook location tracking can trace your real-time location whenever it wants?
Is Facebook location tracking real?
Facebook has become notorious for gathering user details and for creating profiles for marketing purposes. Facebook sells the collected user details to advertisers so that they can target their potential customers. The app also stores your detailed location history to suggest nearby friends, events, and more.
However, users can turn off the location access from their phones and stop Facebook to track their whereabouts.
In this article, we are going to uncover some real ways to help you deactivate Facebook location tracking.
Let's begin.
Facebook Location Tracking – What We Need to Know?
Facebook location tracking enables the app to track your whereabouts continuously. Social networking apps surround us. Every social networking app, including Facebook, Instagram, Snapchat tracks our online activities.
If we talk about Facebook, its data collection and processing have disturbed its users, making them think that Facebook is spying on every single person. However, as per tracing whereabouts, users can enable and disable the location tracking feature of Facebook.
Is Facebook Location Tracking Different from Check-Ins?
We all are familiar with the check-in feature of Facebook. It is trendy to share your whereabouts on Facebook by tagging your social peers. Not only do we enjoy the location sharing feature of Facebook, but we take the app as our journal. Just like diaries, Facebook profiles hold our memories.
But, is it safe to share location on Facebook?
Well, if your profile is set as public, sharing your whereabouts can give an open invitation to stalkers, and sexual predators.
Facebook is capable of tracking your whereabouts all the time.
Google and other search engines receive user queries like;
How do I stop Facebook from tracking my location?
Well, you can disable Facebook location tracking by following these steps;
MUST-READ: Is Your Child Addicted to Facebook? An Easy Guide to Control Your Kid's Facebook Usage
Open the Facebook app.
Tap on three horizontal lines from the bottom right corner.
Open Settings & Privacy.
Tap Settings.
From the Privacy section tap location.
Disable location access.
You can deactivate Facebook location tracking from the device settings. However, changing location permissions differ in Android and iOS devices.
Facebook Location Settings for Android:
The android operating system is the most demanding OS worldwide. With millions of active users, knowing how to disable location tracking for Android is a must;
Here are the simple steps to follow;
Launch the Facebook mobile application.
Tap the menu.
Scroll down and open Settings & Privacy.
Open Settings.
Scroll down and tap on location from the Privacy section.
Open Location Services.
Turn off the location services.
Deactivate the Background Location if you don't want Facebook to track your location while you are not using the app.
Facebook Location Settings for iOS:
Apple devices are known to provide high-end security.
If you are wondering how to deactivate location tracking on iOS devices, here are the easy steps for that;
Open the Facebook app.
From the menu, open Settings & Privacy, and then Settings.
Scroll down to Privacy section.
Tap on Location.
Turn off the Location History option.
Now, tap on device settings.
Again, tap on location.
Choose Never or While Using the App option.
The Facebook app saves your location history to its server. Let's see how you can fetch saved location history from the Facebook application.
How to Fetch Location History on Facebook?
Do you know that you can view location history saved on your Facebook account?
Yes, Facebook tracks your whereabouts and saves the details on your account.
You can get details on your visited locations with just a few clicks.
If you are curious to know your saved Facebook location history, here are simple steps to dig out the information.
Open the Facebook app.
Tap the three horizontal lines from the bottom right corner.
Scroll down and tap Settings & Privacy.
Open Privacy Shortcuts.
Tap on View Your Location History.
Enter your account password.
Now, you can view the saved tracked locations.
So many controversies highlighted how Facebook mishandle users' information for advertisement purposes.
On the other hand, Facebook users are curious if the app listens to their conversations.
The reason is not shocking, as we can observe that whatever we say or communicate about gets appeared on Facebook as a suggestion.
So, does Facebook listens to your conversations?
Let's find out.
Facebook Data Collection – Is Facebook Listening You All the Time?
Facebook indeed shows you ads corresponding to your preferences and interests. But, it does not mean that Facebook is listening to what you speak. Facebook does not need to hear your surroundings, as it already knew a lot about you.
Websites and apps are integrated with Facebook's Pixel tool and software development kit to exchange online activity information. Using user online activity details, Facebook targets advertising to generate potential buyers.
Users can clear their doubts on the abovementioned mechanism by observing Off-Facebook Activity, a tool launched by Facebook itself.
Here is how you can navigate Off-Facebook Activity;
Open the Facebook app.
Go to the menu.
Scroll down and tap on Settings.
Scroll down and tap on Off-Facebook Activity from Your Facebook Information section.
From here, you can manage your off-Facebook activity and clear activity history as well.
It is true that Facebook not only tracks your location but also traces the footprints of other digital activities. From the collected data of your preferences, likes, and shares, Facebook gets insights and uses such information for targeted advertisement campaigns.
RELATED: TikTok is Spying on You – Myth or Truth?
Conclusion:
With around 2.7 billion active users, Facebook is a hub of numerous personal details. Facebook collects users' data and processes the gathered information to boost advertisements. You can say that Facebook sells the users' data to advertisement channels to promote the marketing game. Most online users feel uncomfortable sharing their whereabouts with any app or platform.
Fortunately, Facebook location tracking can be disabled by following the abovementioned steps. You can activate the location-sharing feature whenever you want.