How Hidden Android Spy Apps Fetch Data from Smart Devices?
Posted in Android Spy by Mike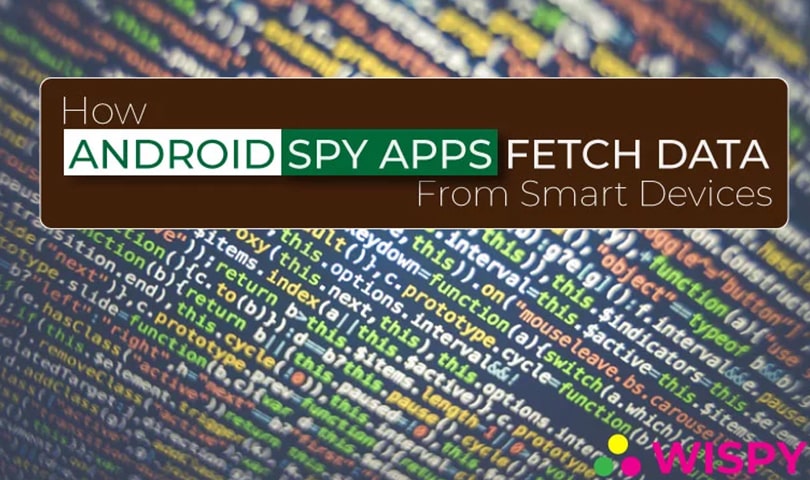 Spying on Android devices is not as difficult as it seems. Moreover, there is no need to be tech-savvy or learn codes as you can spy on any Android device with the help of the latest monitoring apps for android devices.
If you are new in the online spying world, then you must be curious about "How Hidden Android Spy Apps Fetch Data from Smart Devices?" or "How Android Spyware works?"
Don't worry!
In this piece of article, we are going to explain some behind the scene insights about Android spying.
Again, chill out, there is no requirement to have technical knowledge as we have made this article as easy as pie.
So, let's get started.
Android Spying – How It Works?
Spying is a procedure to keep eye on someone's activities, secretly. As the word spy indicates, spying does not include the acknowledgement of the target user, which means whoever is getting spied will be unaware that someone is keeping eyes on them.
Android spying is a practice of monitoring the digital activities of an Android target device. This is how the Android spy apps fetch data from target smartphone devices.
Major best Android spy apps are designed to interact with the operating system of the target phone or tablet and collect all the data stored in that particular device. The collected data is then previewed on the dashboard of the spying app so that the end-user can access the spied information easily.
Now the above-mentioned terms like target phone, spy app, and dashboard can confuse some of the people who are totally unaware of the functionality of Android spyware.
Let's discuss the components of Android spying first, and then we will help you discover how to get started with it.
Components of Android Spying:
Before you go for spying, always make sure that you have legitimate reasons for Android spying. Obviously, breaking into someone's phone isn't legal unless you do it for the protection of either your kids or business.
Once you decide to spy on someone's phone, here are some insights about how android spy apps fetch data and the components involved in the whole Android spying process.
The Target Device:
You must be thinking; what is a target device?
Well, a target device is any phone or tablet you want to spy on. In the spy app world, a target device is the one in which you intend to install spyware. It can be your son's or daughter's, your employee, etc.
Android Spy App:
An Android spy app helps you monitor your target phone or tablet that runs Android OS. if you search Android spyware on the internet, you will be amazed to find too many apps offering Android monitoring and tracking.
Spy app for android allows you to monitor digital activities including; calls, contacts, messages, social media, etc.
Most of the Android spy apps fetch data from device in stealth mode, which means that you can hide the spyware icon on the target device. By this, the owner of the target device will never know that he/she is getting monitored.
For your convenience, we are going to mention some features offered by top Android spyware:
Call Recording
GPS Tracking
Social Media Spying
Geo-Fencing
IMs Tracking
Browsing History Monitoring
App Usage Tracking
Remote Access
Stealth Mode
Note that, for Android monitoring, you have to install the spy app in your target device. There is a myth revolving around the internet that spy apps can be installed remotely. Never fall for such claims, as the installation of Android spyware is necessary to get started with mobile spying.
What else do you want if you can get all these incredible features from one app i.e. TheWiSpy Android monitoring solution.
Dashboard or Control Panel:
Dashboard or control panel is a platform, provided by spyware, that previews all the features of the running Android software. You can monitor everything happening in your target Android device via an online control panel.
Once installed, the spyware gives you credentials to the app dashboard so that you can remotely monitor everything that happens on your target Android device.
How to Get Started with Android Spying?
As mentioned above, to get started with Android spying, you must install spyware app in phone or tablet.
To make things easier for you, we are going to take TheWiSpy installation process as an example.
Here we go.
TheWiSpy Android spyware installation has only 3 simple steps to follow;
License Purchase:
Everything has a price. For efficient monitoring, you need to buy TheWiSpy subscription from its website. The app offers multiple affordable pricing plans so that you can get the license subscription as per your requirements.
Installation of the Spyware:
The minute you buy the app, TheWiSpy will provide you with an installation link that should be opened on the target device. You have to configure the app in the target device. The installation process will take a few minutes.
Access to the Web-Based Dashboard:
After the installation is complete, log in to TheWiSpy dashboard with credentials provided by the service provider. From the side menu, you can monitor all the features of this app remotely and secretly.
Yes, you are only three steps away from exploring the online activities of your target device.
So, what's keeping you waiting?
Get your TheWiSpy subscription today and discover what is happening in your child's or employee's phone.
Summary:
Android spy apps are gaining popularity with the passing of time, but people are still curious about how such apps work. In simple words, Android spyware runs in the background of the target device and records all the incoming, outgoing, and saved data of the device. The spyware then uploads every recorded detail on the web-based control panel. You can view the dashboard by logging in via username and password. Choosing reliable spyware like TheWiSpy will help you monitor your target device without compromising its security. Stay always a step ahead using the technology and detect potential dangers without getting harmed.