Is it Possible to Listen to Phone Calls with Android Spy App?
Posted in Android Spy by Mike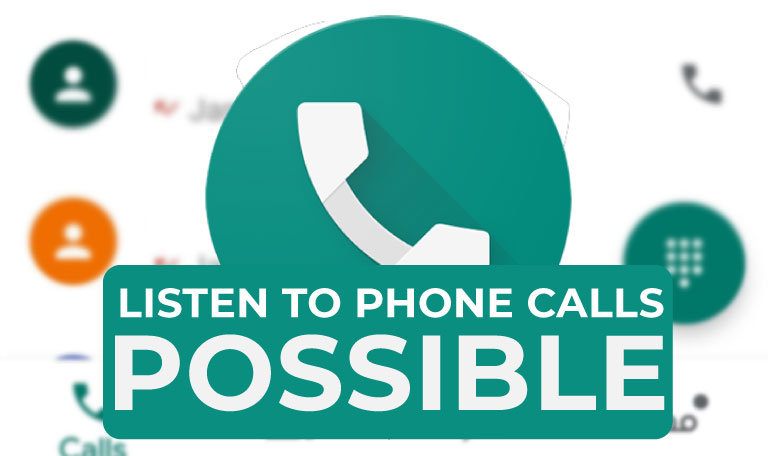 Are you curious to know who calls your teens?
Do you want to hear the phone calls of your children?
Telephonic conversations can be a significant source of information if you want to know about someone's life. Android spy apps work efficiently to record the calls of the target device. Although, listen to phone calls has always been considered as an illegal activity.
But still, Google receives an enormous number of queries asking "how can I listen to the phone calls of someone?"
RELATED: How to Track Cell Phone Legally?
Listening to the telephonic conversation does not always mean that a person wants to stalk someone or planning to catch a cheating spouse. Cell phone call recordings can help parents discover to whom their teens contact and what plans do they make with their friends. Also, a person can record a phone call to save important verbal messages, including; agreements, interviews, etc.
So, if you are seeking effective ways to record and listen to phone calls, then this article is for you.
But wait!
Before you start recording the phone call of someone, make sure you do it legitimately.
Record Telephonic Conversation – Don't Do It Illegally:
Recording and listening to the telephonic conversation require the consent of at least one of the callers. Without complying with the consent law, if you secretly spy on phone calls of someone, you'll have to face legal consequences. Every state has a different consent law. Take California for example, according to the state consent law the call recording practice requires permission from both of the callers. That is why it is essential to check your state law regarding call recording before you do it.
Now let's reveal how to listen to phone calls remotely.
Part 1: Record Phone Calls with Google Voice:
Google Voice is an ultimate solution for recording phone calls. If you want a free tool for call recordings, then Google Voice is for you. Despite the OS you use, Android or iOS, Google Voice effectively works on every smart device. However, Google Voice is limited to record only incoming calls, it does not record outgoing calls. Also, you have to switch your phone number to Google Voice software.
Let's see in steps method to get started with Google Voice:
Install Google Voice from Play Store or download it directly from the official website www.google.com/voice.
Set up Google Voice on your smartphone and create a Google Voice number. For that, you have to launch the Google Voice app and tap on "Get Started".
Choose your Google account to which you want to assign your number.
Accept the "Terms & Conditions" and continue.
Now, you have to choose Google Voice number by entering your information, e.g. city. Google offers a free number for the first try. If you want to transfer your existing phone number to Google Voice, then you have to pay the one-time charges of $20 for it. Continue and verify your phone number.
Once verified, your account gets activated. Now, it's time to set up the call recording feature. From the upper-left menu, open the menu and tap on Settings. Toggle on the "incoming call options" to activate call recordings.
Your phone number is now linked with Google Voice, you can easily record any incoming call by dialing the "4" button from the numeric keypad. To stop the call recording hit the "4" button again from the dialing pad.
Note that, Google Voice notifies the other caller that you have started recording the ongoing telephonic conversation.
To access your recorded calls files, go to the Voicemail and play the recordings. You can also save the transcripts of your recorded calls.
If you want to record the phone calls secretly, you must go for an Android spy app.
Part 2: Listen to Phone Calls with TheWiSpy Android Spy App:
Spyware for Android devices offers diverse features of tracking and monitoring a variety of Android smartphones and tablets. When it comes to call recordings, top spy apps for Android allow you to record and listen to phone calls (incoming and outgoing) without any interruption and suspicion.
TheWiSpy Android monitoring app provides the ultimate call recording feature to tape telephonic conversations of your target device. The app is easy to install and provides a user-centric dashboard which you can operate very easily. There is no requirement to have the technical knowledge to set up and run TheWiSpy app for call recordings.
RELATED: Can I Legally Track Android Secrets?
TheWiSpy mobile app for spying, along with call recording feature help listen to phone calls, comes with many other qualities, including;
Contact Tracking
Call Logs Monitoring
Incoming Call Recordings
Outgoing Call Recordings
Surround Recordings
Cell Phone Tracking
Isn't it amazing how a single spy app can give you a bunch of advanced features to monitor an Android smartphone?
Here is how you can listen to incoming and outgoing call recordings with TheWiSpy app:
Go to TheWiSpy official website https://www.thewispy.com/.
Click on the pricing section and choose your subscription plan.
Purchase TheWiSpy license.
Once you buy the subscription of TheWiSpy, you have to install the app on your target phone physically. For that, physical access to the desired mobile phone is required.
The minute you purchase the subscription, you will receive an email from TheWiSpy holding app download URL, activation key, and dashboard credentials.
Hold the target phone in your hand and open the download link in it.
Install and set up TheWiSpy app on your desired phone.
When the installation process is completed, you have to open the app dashboard from any web browser.
Log in to your account.
From the top left menu, select call recording feature.
From the call recording tab, you can listen to inbound and outbound calls of your target phone.
The menu section also displays other features including; call logs history, contacts, surround recordings, and many others.
All you need to do is log in to your dashboard and secretly listen to all the taped calls of your target device.
If you want to spy on the call recordings of your kids or employees, then there is no better option than TheWiSpy Android spy app.
Conclusion:
Listening to the phone calls of someone has never been an easy task, but the use of right tools can help you through it. Google Voice, for example, is an efficient app to record calls for free. On the other hand, if you want secret yet advanced phone call spying, then utilizing an Android monitoring app would be an ultimate option for you. So, are you ready to reveal the telephonic conversations of your children or employees?