How to Hack Nokia Android Phone with Phone Tracker App?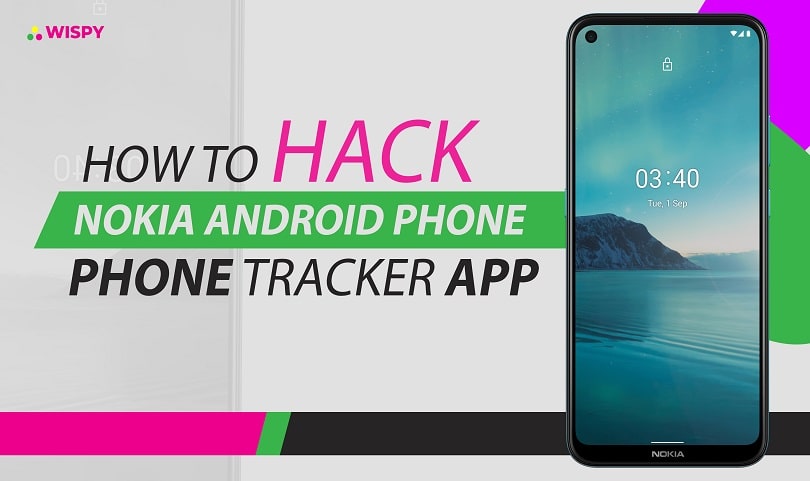 Nokia Corporation dominated the cell phone industry with innovative mobile phone series in the past couple of decades. However, with the invention of Android, the demand for Nokia Symbian phones dropped. But, later, Nokia took the leap by launching high-class Android phones in the market.
If your kid owns a Nokia smartphone and you want to spy on it, you've come to the right place.
Remember that, while searching tracking methods for Nokia phones, you will encounter many hacking procedures that only work with Symbian OS. And, using such tracking methods would be like bringing a knife to a gunfight.
That is why you must have the right software toolset to track Nokia smartphones and tablets.
In this article, we will consider some modern ways to track Nokia Android phones remotely.
How to Hack Nokia Android Phone with Phone Tracker App?
Admit it; if you are a millennial, you must have used a Nokia phone in your life. Today, Nokia Android phones are a star attraction for people who prefer Nokia mobiles over other smartphones. Nokia devices offer high-end functionality, feasibility, flexibility, and reliability.
However, with the increasing Nokia Android phones users, people are curious to know hacking tips to track Nokia android phones and tablets.
In the modern era, it is imperative to track the cell phones and tablets of your loved ones. The word "track" triggers two schools of thought; monitoring digital activities and tracking GPS location.
Well, it is possible to track the location and monitor the cyber activities of Nokia smartphones.
Let's get straight to the point, here are some advanced yet efficient methods to hack Nokia Android phones.
Option # 1: Track Nokia Phones with Built-in Options:
Watching your teens wander around without informing you is an ultimate stressor. Likewise, parents are in constant worry if their kids get lost in an unknown place. Tracking someone's Nokia phone with built-in Android options will allow you to track the whereabouts of your loved ones from a remote location.
Here are a few options that enable you to monitor your target Nokia phones without installing a third-party phone tracker app.
Find My Device:
Nokia Android devices run on a linked Google account. Therefore, if you want to utilize the find my device tool, you must ensure that you have the Google account credentials of your target Nokia device. Also, Google's Find My Device must be enabled on the target device.
Here is how you can toggle on "Find My Device" on your targeted Nokia device.
Unlock Phone > Open Settings > Tap Security > Tap Find My Device > Toggle on or enable the option.
Once you enable the Find My Device function on your target Nokia phone, it's time to track it remotely. For that, you need to visit www.google.com/android/find. Then, sign in to the Google account connected to your target device and track its location with virtual access.
Device Manager:
Nokia Android phones run on a connected Google account. The Android device manager is a virtual assistant to help people control and track their cell phones remotely. For instance, if you have lost your device or want to track someone's location, the Android device manager can help you with that. All you need is your target user's Google account credentials.
Unlike Find My Device, the Android device manager allows you to track cell phones beyond monitoring whereabouts. In addition, you can enjoy other device controls using remote access.
You can find Android Device Manager on your target Nokia Phone's settings. Check if it is enabled on your target device; if not then toggle it on. The Android device manager helps you locate your target user and lets you turn off their device remotely. Also, you can erase the phone's data and make the target Nokia phone ring with virtual commands. You have to visit myaccount.google.com/device-activity, sign in, and hack Nokia Android phone activity remotely.
READ ALSO: How to Hack Samsung Phone without Them Knowing
Option # 2: Hack Nokia Android Phone with Mobile Tracker Apps:
Do you know that advanced phone tracker apps can help you track the GPS location of cell phones and allow you to monitor mobile activities at the same time?
It is true. You can use a mobile phone tracker app and track on whereabouts, online activities, calls, messages, and other cyber actions.
Here are the primary features top spyware brands offer:
Call Monitoring
SMS Spying
Screen Recording
GPS Tracking
Browsing History Monitoring
Keylogging
Surround Recording
Geofencing
IMs Monitoring
App Tracking
And many more.
If you know nothing about installing a phone tracker or how you can use it, don't worry.
Cell phone tracking apps work on a simple principle; fetch and upload. These apps record the digital information from target Nokia Android devices and then transfer the details to their web-based dashboard. Phone tracker users can access the dashboard with registered credentials. Almost every phone tracker app offers stealth mode. If you secretly track someone's online and offline life, the user won't catch your intentions. However, it is at your discretion to hide the mobile tracker app icon or not.
As far as installation is concerned, you can install a phone tracker app on your target Nokia device via the app download link and product key. But, of course, you have to get the app license from an authentic source and configure it using the activation key. And you can track Nokia phones remotely and secretly.
Before you pick any phone tracker app to spy on Nokia devices, make sure it has the following qualities;
Reliability
Good customer reviews
Positive rating
Data security
Stealth mode
Active support team
Many phone tracking apps are available to help you monitor Nokia mobiles, like TheWiSpy, mSpy, FlexiSpy, XnSpy, etc. You have to purchase the spyware license with a subscription fee; you can't find these apps on the Play Store.
Conclusion:
The demand for Nokia smart devices has surged again with the launch of Nokia Android phones and tablets. The name itself is enough to gain people's trust when it comes to reliability and flexibility. Such increased demand has triggered the phone tracker app development for Nokia cell phones and tablets. Today, many mobile tracker apps are available to trace Nokia phones' location and other cyber activities. However, you can hack Nokia Android phone without a tracker app. If you want full details of online and offline actions, choosing a Nokia phone tracking program would be ideal.