Android Monitoring Made Easy – 3 Easy Steps Guide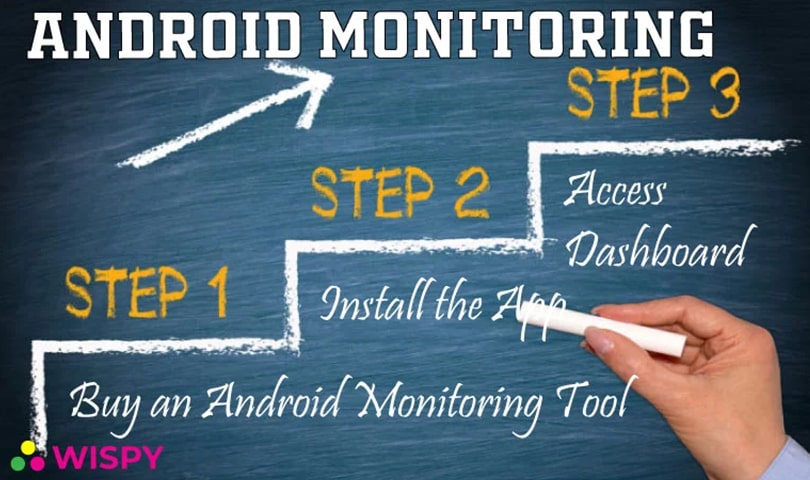 Android phones are in great use nowadays. From teens to grandparents, everyone is busy on their mobile devices. As all of us have seen the evolution of technology, we can tell the young generation about the good and bad effects of the digital world.
When it comes to cybersecurity, we all get worried about the safety of our loved ones. Parents must teach their kids the ways to use the online space safely. Kids tend to follow their parent's advice more likely than teens. Teenagers, today, want mobile and internet freedom, which can be troublesome. Parents must know there are a lot of cyber dangers waiting to attack the vulnerable in the online world.
Cyber threats have been so common that even businesses are not safe from them. The easy solution to keep kids secure from the harms of the internet is the use of an Android monitoring app.
Don't get worried, the best Android spying apps are safe. And, you don't require any technical knowledge to install an Android monitoring tool to the mobiles and tablets of your family and staff.
In this piece of article, we are going to describe the easiest steps to help you start with Android phone monitoring.
So, let's get started.
Android Monitoring – The Introduction:
Among us, the majority of people are Android users. Even businesses provide Android work phones to their employees due to great functionality and affordability. Creating a secure cyber environment is as important for kids as for businesses. 
Android monitoring is a practice to keep eyes on every digital activity happening in the smartphone or tablet of your target user. There is a number of companies offering Android spying apps to help people monitor their loved ones.
As the technology evolves, new and new features of Android spying emerge. Today, we can listen to call recordings, read text messages, view galleries, track GPS location, monitor social media etc. with the help of Android spyware. The interesting thing is that you are only required to install the Android tracker into the target device and you are all ready to spy on your target Android phones and tablets.
Amazing, isn't it?
Now, let's move to the next step.
How to Monitor Android Phones or Tablets?
Have you ever tried to sneak into someone's phone or tablet?
If you have, then you must know how complicated it is to physically spy on someone's Android device. If the device owner caught you then it may ruin the relationship between you two. 
Many people think that spying on someone's phone is illegal. Well, to some extent it is, but as far as you do it for security concerns; it is legitimate. Note that, monitoring adults; including employees and family members is legitimate only if the target user has knowledge of being tracked. Otherwise, it is illegal to track someone's phone without their consent.
It is better to play safe.
Android monitoring apps, once installed in the target device, gather all the digital data happening in the phone of your kids or employees and uploads the details on the web-based control panel. By accessing the dashboard, the end-user can monitor everything he/she wants.
To monitor Android phones and tablets, follow these steps;
1- Buy an Android Monitoring Tool
2- Install the App in Your Target Phone or Tablet
3- Access Dashboard and Start Monitoring
Let's dig deep into these steps and see how it works.
Buy an Android Monitoring Tool:
The availability of hundreds of Android monitoring apps on the internet might confuse you to choose the best one. Just remember the purpose for which you need the Android spyware. Choose an Android monitoring app on the basis of functionality, user-friendliness, and affordability. Make sure you go through the monitoring features first before buying any app.
You must be wondering what features does Android Spyware provides?
Well, you can do the following with a spying tool:
Listen to Call Recordings
Read Text Messages
Track GPS Location
View Call Logs
Monitor Contacts
Geo-fence Localities
Monitor Social Media
Listen to Surround Recordings
And many more…
Here, we have listed the best Android Spying Apps in 2022 Updated.
TheWiSpy
FlexiSpy
Spyzie
Hoverwatch
SpyBubble
Once you choose the suitable Android tracker for your target device, you have to purchase that spyware to get the license for spying. Once you register yourself with the service provider, you will receive a confirmation email along with app installation link and login credentials.
Subscription packages differ with different Android monitoring app service providers. Pick the one that suits best to your spying needs.
Install the App in Your Target Phone or Tablet:
The app installation part is quite tricky, but not impossible. After getting registered and receiving the Android spyware installation link, you have to open the URL in your target device. For this, physical access to the target Android phone or tablet is required.
Don't worry, you are only required to open the target device once for app installation.
The minute you install the Android snooping app, you will be redirected to the configuration process. Set up the app, and you are all ready to explore your target device remotely.
Access Dashboard and Start Monitoring:
As mentioned above, the service provider will give you the credentials of your Android spying license. Once you set up the spyware in your target device, open the dashboard of the spyware using provided login ID and password. From the control panel, you can enjoy all the features of the spyware app. Everything happening in your target Android device becomes only a few clicks away.
BONUS – TheWiSpy Android Monitoring Solution:
If you are looking at the best Android monitoring solution in town, then TheWiSpy is the ultimate option. It provides secure mobile phone monitoring with a range of cell phone spying solutions. Whether you want to monitor your kids or spy your employees, TheWiSpy does it all.
So, are you ready to get an Android monitoring app?