5 Tricks to Overcome Snapchat Addiction | TheWiSpy
Posted in Social Media by Mike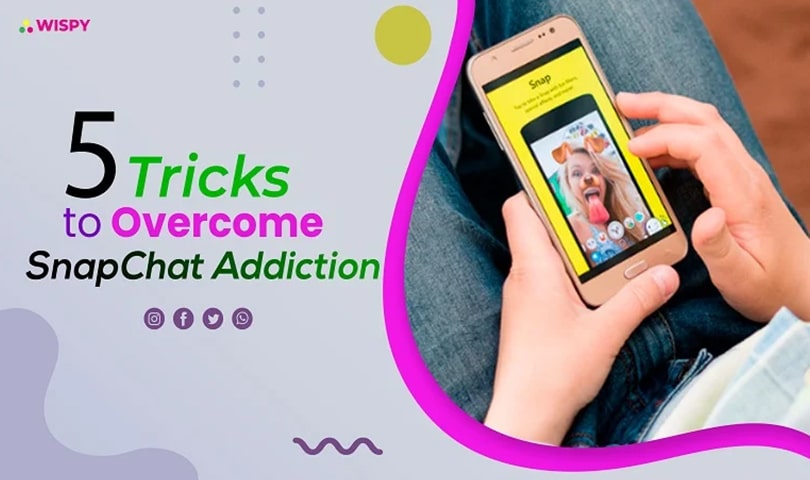 Anyone who uses social media knows about Snapchat. With increasing popularity, Snapchat has now 280 million users today. The drawback of social media addiction is getting apparent with the dependence of users on apps like Snapchat, Facebook, Instagram, etc.
Snapchat addiction is becoming a hot topic in the social media world. A great number of users are getting reliant on such an app, disturbing their routine activities.
The reason?
Snap- stories and chats vanish soon after the limited time, making users more curious to never miss an update.
Do you also get curious about Snapchat stories?
Or your kid using too much SnapChat makes you worry?
In this article, we are going to explain what is Snapchat addiction, and how you can overcome such a dependence?
Let's get into it.
Part 1: What is Snapchat Addiction?
Snapchat has ironically attracted everyone towards its streaks and snaps stories. Just like social media addiction, SnapChat dependence makes its users stick to the app for several hours or makes them open Snapchat multiple times a day.
Excess of everything is bad, and in the case of Snapchat or any social media addiction, users develop frustration, anxiety, and insomnia. Like drug addiction, SnapChat retreat can cause some serious withdrawal effects. A person with Snapchat addiction feels uncomfortable every time the app is unreachable. It affects the productivity and creativity level of the addicted person.
Signs of SnapChat Addiction:
Any social media addict shows the signs of restlessness or feels agitated when he/she has no internet network available. For parents, it is significant to detect such signs in their kids.
We should observe the following signs of social media addiction among peers, so we can take suitable actions to stop Snapchat addiction.
Snapchat is the first and last app, its addicts use soon after waking up and before going to sleep.
Snapchat addicts keep checking their cell phones to see if they got a new notification. They frequently open Snapchat, even if they are in the middle of an essential meeting or task.
Work, meetings, urgent tasks, nothing matters for a Snapchat addict.
Snapchat scores and streaks are becoming the extra reasons to keep people glued to this app.
A person with Snapchat addiction posts long stories consisting of more than 120 seconds. They are obsessed with Snapchat and want to make people engaged with their content.
Too often, people miss work deadlines or neglect important tasks due to Snapchat dependence.
Snapchat addiction can make kids hostile and affects their academic performance. Moreover, children with such an addiction stay distant from the actual world. Parents must not leave this issue and take some actions against social media addiction.
So, if your child or peer exhibits such Snapchat addiction signs, it's time to help them overcome such a dependence.
The next section of this article is going to mention some effective tricks to help people overcome addiction to Snapchat and other social media sites.
READ ALSO: Using WhatsApp Can Be Dangerous – Here is how | TheWiSpy
Part 2: 5 Tricks to Overcome Snapchat Addiction:
Now, that you know the major signs of Snapchat addiction, you can have the idea of how badly such dependence can affect your friends and family. Not only work life, but the personal life of an addict disrupts a lot. Such an addiction can drive mood swings, aggression, frustration, and many other psychological effects.
It's time to stop the overdrive of social media.
And for that, you must act upon the following tricks.
Use a Blocking App:
Using a third-party app blocking software can help you restrict the use of Snapchat. There are numerous tools available such as Android spyware and parental control apps that enable you to block Snapchat from the target device.
You can use apps like TheWiSpy, FamiSafe, etc. to block Snapchat from your kid's phone. Using third-party parental control tools, you can block any app you want remotely and secretly.
Turnoff The App Notifications:
If you want to overcome Snapchat addiction, there is no better way than turning off the notifications. You can enable the "Do not Disturb" mode on your cell phone. Or, you can silent your app notifications.
Set Screen Time for Kids:
Kids with SnapChat addiction are difficult to handle. But, parents can control their kids to be dependent on mobile apps. The easiest way to do so is to pre-set the phone and restrict the screen time. Allow your children to use Snapchat for a limited time so that their school/college performance doesn't get affected. Parents can either utilize built-in settings of the target phone, or they can use a third-party parental control app to block addictive apps and games.
Buy Parental Controls >>
Go Offline:
If Snapchat addiction is troubling you or your family so much, just turn off the internet. The less the connectivity, the less you open Snapchat. Take a rest from all social media apps and focus on the real-life things that matter more.
For addicts, going offline can cause severe anxiety.
Indulge Yourself in Productive Activities:
Productivity is the key to success. Despite wasting time on Snapchat, you can spend your time during productive tasks. It will be easy to leave social media for you if you know the negative effects of the online world. Make new hobbies, schedule your daily routine, and live with serenity despite using too much social media.
You can always uninstall Snapchat or any other app that bothers your inner peace. Remember that, leaving an addiction is not as easy as it seems.
Final Thoughts:
The trend of sending snaps and scoring more scores on Snapchat is increasing tremendously. Our young generation is crazy about snap streaks and stories. Such a habit can develop mobile phone addiction among children. Parents can help their kids to overcome such dependence. It is hard though, but not impossible.
Keep your kids away from the nuisance of the online world, so that their academic grades don't get affected. Follow the above-mentioned ways and stop your kid from using too much social media.